by Anya Arndt, Citizens Project intern 
On June 12th, 2012, the "Evangelical Statement of Principles for Immigration Reform," was launched with signatures from over 150 prominent leaders, including Focus on the Family president, Jim Daly.[i] The statement calls for comprehensive immigration reform, meaning an easier path to citizenship for people coming into the country as well as for immigrants that are already here. This statement has created interesting responses; not only are members of the Evangelical movement from both ends of the political spectrum signing on, but the Catholic community has also pronounced its approval of the Statement. This recent action begs the question: why has the Christian community chosen to make this move now?
Christians are often divided amongst denominations on different political questions these denominations are standing together on this particular issue. The Evangelical Statement of Principles for Immigration Reform calls for a solution that: "respects the God-given dignity of every person, protects the unity of the immediate family, respects the rule of law, guarantees secure national borders, ensures fairness to taxpayers, and establishes a path toward legal status and/or citizenship for those who qualify and wish to become permanent residents."[ii] In addition to voicing their support for these principles, American Christian communities have individually developed reports concerning their reasons for supporting this statement and released these to the public.
Despite the insistence of church leadership on the salience of these points, one must wonder why the church has not taken this stance earlier and why many groups are still not extending these same principles of acceptance to other minority groups in the United States.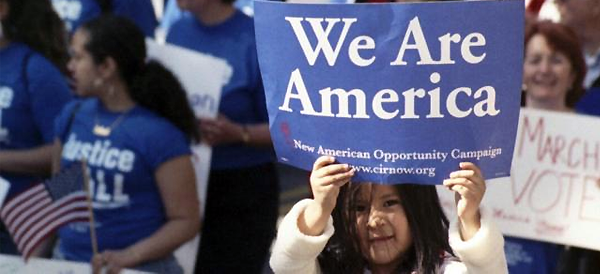 These questions make it necessary to look deeper into the potential agendas of the Evangelical Church and the Catholic Church. Additionally, there is another reason analysts have been skeptical: the Statement of Principles "creates a fault line among white conservatives over immigration," meaning these evangelical groups have disconnected from some of their typical political alliances on an important issue in choosing to take this stance.[iii] President of the National Hispanic Christian Leadership Conference, Reverend Samuel Rodriguez, says that as a result of this issue, "individual legislators are going to have to decide whether they cater to the tea party, non-faith, non-evangelical activists and ignore the evangelical base or whether they're going to compromise."iii Again, we must ask: why have these communities chosen to separate themselves from their traditional political standings? The answer may lay in the fact that this aspect of government politics is not the only aspect of politics these churches are concerned with.All denominations reviewed cite Jesus' teachings as primary reasoning for supporting immigration reform.  They use a variety of biblical passages all promoting the same ideal that Jesus loved all people equally, noting that as Christians, they are called to do the same.  Many denominations (including the Evangelical Lutheran Church and the United Methodist Church) cite family values and the importance of keeping families together as a strong reason for support. The Evangelical Lutheran Church, the Southern Baptist Convention, and the US Conference of Catholic Bishops all express concern that the current process is ineffective and that it contributes to the suffering of immigrant families because it does not offer a reasonable path toward citizenship. The United Methodist church included in its stance the concern that the current system creates fear in the American people that leads to dangerous racial dynamics and racial profiling. The United States Conference of Catholic Bishops was the only organization to include numbers in its stance, stating that many Catholics in the United States are immigrants and they need to be cared for.
Like the United States has seen a large increase in the Latino population, so the Christian community has also seen a considerable increase in Latino membership; church leaders cannot deny the significance of this fact. Reverend Rodriguez acknowledges that Latinos make up "the fastest growing demographic in the evangelical and Christian community."[iv] In a society where secularism is becoming increasingly popular, church leaders are becoming more aware of their declining numbers and the demographics of their constituents.
In 2007 the Pew Forum on Religion and Public Life worked with the Pew Hispanic Center to release a study entitled "Changing Faiths: Latinos and the Transformation of American Religion." The study cites that "an estimated one-third (33%) of all Catholics in the United States are now Hispanics, and, given long-term demographic trends, the Hispanic presence in the nation's largest single religious denomination is certain to grow."[v]  While the percentage is not as high in evangelical populations, an increasing number of Latino evangelicals are converts: "Half of Hispanic evangelicals (51%) are converts, and more than four-fifths of them (43% of Hispanic evangelicals overall) are former Catholics."v
Religious leaders have acknowledged that statistics like these have an influence on their views concerning immigration. While the explanation generally given to the public for this change in heart is theologically driven, leaders like Rodriguez do not deny the practical implications of a change in immigration policy.  Rodriguez commented in an NPR interview that many "…undocumented individuals have converted. They have embraced a biblical Christian world view. As a result of that, when we talk about deporting, we may be deporting American Christianity. There is Anglo, non-Latino, non-ethnic evangelicals are swaying away from the church, so the church is decreasing in white membership. It is increasing in brown, and black and ethnic membership."iv
It is clear that both Catholic and Evangelical communities will benefit from comprehensive immigration reform, but why aren't they working together on this issue? In the past, Catholics and Evangelicals have stood together on social issues, but when talking about immigration, while both parties call for reform, they do so separately. The speculative answer is that Catholics and Evangelicals are competing for the immigrant demographic. Richard Land, president of the Southern Baptist Ethics and Religious Liberty Commission also told NPR "the longer Hispanics stay in the United States, the less likely they are to remain Catholic and become something else. And most of those have become evangelicals. It is also true that the Hispanic culture is hardwired to be social conservatives. They're religious, they're pro-life, they're pro-family, they're entrepreneurial."[vi] Land's comment starts to make the stance of the Evangelical community look much less theologically driven: is the Evangelical Statement really about following Jesus' commands or is this realpolitik? Surely, the answer to that question depends entirely on who you ask, but it is an interesting question to pose, nonetheless.
Although the issue of immigration reform has seen much discussion amongst leading members of the Catholic community and Protestant denominations as well as with the media, it remains to be seen whether or not this discussion will trickle down into the pews. While high up church leadership is taking a stance, and has been encouraging individual pastors to share this stance with parishioners, the question is whether or not this movement will influence the members of these churches as they vote in the upcoming election. Will voters who have traditionally sided with candidates who oppose comprehensive immigration reform change their views and potentially their voting selections as a result of the Evangelical Statement?
Who is more at risk as a result of churches taking this stance: conservative politicians who could lose voters or the churches who may find themselves without representation? Richard Land's comment seems to imply an interest in getting Latino voters who would have voted liberal because of immigration issues to vote conservative; however, this will only work if conservative candidates decide to take the same stance on immigration as Catholic and Evangelical leaders have.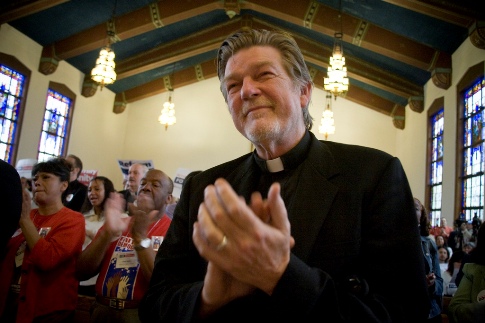 Ultimately, it still seems to be too early to tell what all this talk is going to mean for immigration reform and the Christian community. It cannot be determined what the real motives are for the Evangelicals' and Catholics' choice to support comprehensive immigration reform, nor can it be said definitively why they have chosen to take this stance separately. In the end, whether the reasoning is theological or political, the fact that the stance has been taken is both admirable and promising for the future of immigration policy in the United States.
---